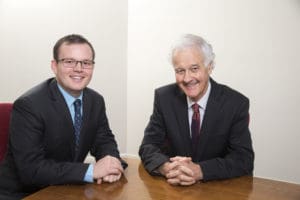 After some 47 years at Whyte Just & Moore, Peter Spear will retire from Legal Practice on 30 June.
In the course of his professional career Peter has attended to the legal affairs of very many clients over a broad range of legal issues.
He will be succeeded as a principal of the firm by Aaron Jolly who has been with us since 2010 and has developed expertise in a broad range of practice areas, but particularly in Wills and Estates, succession planning, commercial transactions and Estate-related litigation.
Aaron already has met a number of Peter's clients and he looks forward to assisting both them and the many he has not yet met.
We encourage you to contact Aaron if you would previously have sought Peter's assistance.
Aaron can be contacted on (03) 5222 2077 or via emailing aaron.jolly@wjmlawyers.com.au.