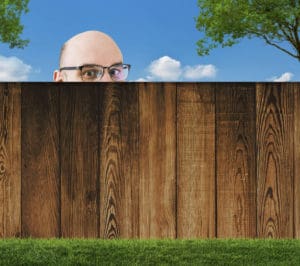 The Fencing Act 1968 (Act) has been comprehensively amended by the Fences Amendment Act 2014 (Amendment Act) which commenced on 22 September 2014.
The Amendment Act clarifies the obligations and process for neighbours with disputes over shared dividing fences.  Guidance is provided on initiating fencing works, contributing to fencing works, the type of dividing fence to be built and the placement of dividing fences.  The Amending Act also expands the powers of the Magistrates' Court to make a wide range of orders in respect of fencing works and to determine disputes about the common boundary.  Some of the major changes are discussed below.
The Amending Act shifts the liability to contribute to dividing fences from occupiers of land to owners of land.  Owners also include certain holders of leases including long term tenants and licensees of Crown land.  Owners Corporations are deemed to be owners in respect of fences between common property and other land. Specifically excluded from the definition of owners are bodies such as municipal councils or traditional owners of land.
The Amendment Act clarifies that owners of adjoining land are liable to contribute in equal proportions to fencing work and any subsidiary works to construct a 'sufficient dividing fence'.  When determining if a fence is a sufficient dividing fence a number of factors must be considered including the purpose for which the adjoining land is used or intended to be used, reasonable privacy concerns, the types of fences used in the local area and any relevant municipal council, building and planning laws that are relevant to the adjoining land or the construction of a dividing fence.
Where an owner requires a fence that is greater than the standard for a sufficient dividing fence, that owner is liable for the balance of the costs which exceed the standard for a sufficient dividing fence.
There are also amendments to the requirements of a fencing notice and a new prescribed form is required to give notice to a neighbour regarding a dividing fence dispute.
Under the Amendment Act, the Magistrates' Court is given the power to hear and determine adverse possession claims that arise in the context of a fencing dispute. The Magistrates' Court may determine who is entitled to title of any parcel of land which is the subject of a dividing fence dispute where an owner of land is a party to proceedings under the Act and they claim title by possession to the part of the adjoining land on which the fencing works are to be carried out.
We recommend you seek advice from one of our commercial lawyers in relation to your rights and obligations under the Act when dealing with a dividing fence dispute.
Will Punivalu
Lawyer